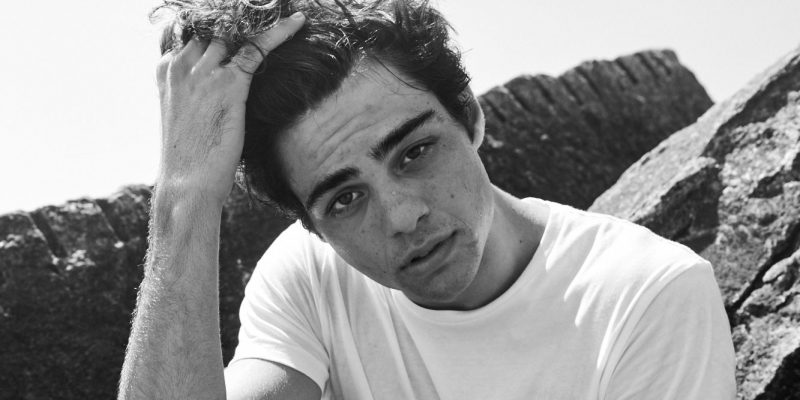 Noah is featured on TheCut.com with an article and a couple of pictures! Check it out below, and view the pictures in the gallery.
"Now, I put my hand here," Noah Centineo instructs as he slides his hand in the back pocket of my jeans. "And then we walk a little, like this." He leads me around the Coney Island Aquarium like that: hip to hip, smiling at each other, his hand, to reiterate, in the back pocket of my jeans. I've just shamelessly asked him to re-create his signature move from Netflix's To All the Boys I've Loved Before, an adaptation of Jenny Han's YA novel, in which he plays Peter Kavinsky, the high-school jock at the center of the film's romantic plotline. I watched the movie and mentally flagged this scene — where he's trying to convince a cafeteria full of students he's dating the protagonist, Lara Jean Covey (Lana Condor) — as the one that made me wonder, Who is that guy? It's a moment that belongs in a clip reel of classic, chemistry-laden movie moments, and I, a journalist, wondered if it could inspire the same feelings when executed in real life.

Centineo tells me how he totally improvised the move during filming. It was a thing he used to do with his ex-girlfriend. They'd be walking around, like we are now, and he'd realized he could sort of dance her around by the pocket and turn her, "just like this," and boom, propelled by just a tug on my pocket, I'm suddenly facing him. We're pelvis to pelvis. He's smiling, comfortably, and I'm confronted with his hazel eyes, the scent of clean laundry, and pure pheromones. I sort of squeal, I think? Who can say, because I definitely black out for a second.
Read more at The Cut!